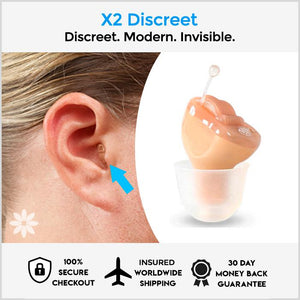 Why Should You Buy From HearGlow?
✅

 

A real brand trusted by over 30,000+ customers worldwide.

 Unlike other fly-by-night operators, we've been helping thousands of customers hear better for years. The proof is in our happy customer reviews!





✅ Fast shipping from the USA, not China! Don't risk delivery delays due to international shipping. Get your products shipped to your door fast.

✅ 24/7 customer support by phone and email.  We have real customer service staff answering your phone calls and emails around the clock to answer any questions you may have.

✅ International warranty & free repairs. All of our products are backed by 12 months warranty and we will promptly resolve any issues you may have.

✅ 100% satisfaction money back guarantee. Hearing loss is complex. If for whatever reason you feel like our products aren't for you, simply return them for a full refund no questions asked.
See what other people say:
"I was going to quit my job because I couldn't hear the customers but…"
"It's really comfortable. You don't even know you've got it in..."
"Right now I can hear the kids in the background which is amazing...
"I had a hearing test and was quoted $5,000 for hearing aids for both ears. I saw the HearGlow ad on Facebook and decided to give them a try. I am thrilled with them and delighted that they fit snugly in my ears."
- Cathy Baker
"My son bought these for me and they work so well. What a pleasant surprise to find inexpensive hearing aids that actually work!!!"
- Ron Persell
"I have turned my TV down to half the volume l did use . I have one for each ear. I can talk on the phone and not turn the speaker on!!!"
- Anita McCormick
HearGlow is suitable for mild to severe hearing loss
Do you ...
Struggle to hear conversations in restaurants?
Wish you could hear your TV and music better?
Have a hard time hearing your friends and family?
Transform your life with one tiny hearing device that uses advanced technology to give you your sense of hearing back.
Introducing the X2 Discreet
Each X2 Discreet Hearing Device:
✅ Is 100% discreet. The X2 Discreet is our most popular model to date.
✅ Is tiny & nearly invisible when worn. If fits snugly in your ear canal and is almost impossible to see from the front. It's only 0.7 x 0.47 inches in size (1.8cm x 1.2cm) and you won't even know you're wearing it. 
✅ Is suitable for mild-to-severe hearing loss. Don't let the size fool you. These hearing devices are very powerful and you will notice a noticeable difference once worn.
✅ Is programmed with intelligent background noise reduction. Soft speech is boosted and loud noises are suppressed, while our new feedback compression system eliminates unwanted whistling and feedback sounds.
✅ Is extremely easy to use & adjustable. Set up and ready to use in seconds. Adjusting the volume is also quick and easy by turning a volume dial.

✅ Fits comfortably and is one size fits all - it comes supplied with three silicone fitting tips to ensure a comfortable fit. There's no need to visit an audiologist for fitting and it's a simple process that doesn't require custom individual ear impressions (another reason why traditional hearing devices can cost so much)

What's included with your hearing device?
1 Protective Storage and Carry Case 
1 A10 Size Battery
3 Silicone Ear Domes (small, medium, large) to ensure a perfect fit
1 Cleaning Brush & Set of Replaceable Wax Guards
1 User Manual & Instructions
12 Months Manufacturers Repairs & Replacement Warranty
30 Days No Hassle Money Back Guarantee
Accessories you can add to your order
Batteries - Purchase them directly from us by visiting this link. You can also find A10 batteries at any local pharmacy, drugstore or supermarket. 
Smaller Ear Domes - Do you have smaller ear canals? You can also add flexible open fit ear domes by visiting this link. 
How does this model compare to the others?
X2 Discreet - The X2 Discreet is our mid-range option that features intelligent noise reduction. The X2 comes in a beige/skin-tone color for the entire unit, is suitable for those with mild to moderately severe hearing loss, and is also pre-programmed for age-related hearing loss.
To see our other models, please visit https://hearglow.com/pages/hearing-devices.
Hear What Our Customers Say About Us
We're thrilled to hear from our customers about how simple and cost effective devices like the X1 and X2 Discreet can radically improve the quality of your life. Most customers reflect after using our hearing devices, they wish they had bought them years ago. Scroll down to the bottom of this page to see some of our customer reviews, or visit https://hearglow.com/pages/hearbloom-reviews to read dozens of Facebook comments and real products reviews from our satisfied customers.
Frequently Asked Questions
No, our hearing devices don't require that you take a hearing test. HearGlow hearing devices are configured for the most common types of hearing loss and work for the majority of our customers and each hearing device can be easily adjusted for your hearing loss.
HearGlow ITC hearing devices take Zinc A-10 batteries, the smallest around. They last for up to 1-2 weeks with general use. You can find A-10 batteries at any local pharmacy, drug store or supermarket. Otherwise, you can purchase batteries directly from us by visiting this link.
We include earbuds in 3 different sizes (small, medium, large) with each hearing device, allowing 99% of our customers to get the correct fit.
Not to worry! Hearing loss is complex and different for everyone. That's why we offer a 30-day return policy. Simply contact us within 30 days of receiving your purchase to return your hearing device and once we receive it we'll send you a 100% refund.
Your hearing device should arrive in 10-15 business days delivered by USPS, Canada Post, Royal Mail, or Australia Post. For the rest of the world, expect 15-20 business days for delivery.
We cut out the middleman — no doctor salaries, no brick-and-mortar locations, etc. — and we manufacture our hearing devices with new, cutting-edge digital technology, which is far more affordable than manufacturing traditional hearing devices.
Please see below for a comparison table of features for the different models that we offer.
X2 Pro
- The X2 Pro is our mid-range option with additional features such as intelligent noise reduction, wind noise suppression and a loud sound block. With a built-in feedback shield, unwanted whistling will also be eradicated. The X2 comes in a beige/skin-tone color for the entire unit, is suitable for those with mild to moderately severe hearing loss, and is also pre-programmed for age-related hearing loss.
X3 Digital
 - The X3 Digital is our most advanced model that is a more sophisticated, adjustable, in-the-ear hearing device model compared to the X1 and X2 Pro. The standout feature is that it is 100% digital and includes advanced noise reduction and sound processing for clearer sounds.
WHAT OUR CUSTOMERS SAY